Herrmann's Service Center specializes in exceptional fleet maintenance
and repair. With our flexible hours and skilled team of experts, Herrmann's
will do whatever it takes to keep your fleet on the road. We have a well-
equipped, 10,000 square foot, four bay shop, and highly trained and
certified technicians with state-of-the-art tools. Tractor/trailer, agricultural,
RV, light, medium and heavy automotive. We do it all: engine service &
repair, transmission repair, oil change, body work, trailer fabrication and
repair, electrical wiring or new and used tires, we want to be the one you
call on to get the job done. We are here to serve your repair and
maintenance needs.
Herrmann's Service Center knows that in times of unexpected troubles, time
can mean everything.
Hermann's specializes in quality repair work. Whether you are broken down
on the side of the road or at the loading dock, we will bring our service to
you. With our flexible hours, we can be to you and your fleet in no time;
working efficiently to get your equipment running safely, once again.
Herrmann's also has experienced technicians to help aid truckers in
meeting Department of Transportation inspections. Ride down the road with
ease, knowing that anywhere throughout the Ohio Valley Region we will be
there to help you in times of unexpected need

About Us:
Herrmann's Service Center, Inc.,
has provided superior service and
support for transportation and
related industries, at superb prices,
since 1973. Still serving each
customer as if they were the first,
Herrmann's strives to uphold the
strong ethical standards their
customers expect in providing
solutions to even the smallest of
needs. Diversified as our customers
who come from all over the United
States and Canada, we will be just
as reliable for you too.
Contact Us
1183 S. Market Street
Troy, Ohio 45373
Email Us
888-339-4490
937-339-4484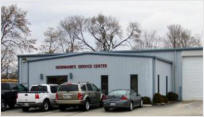 Metal Fabrication
Herrmann's specializes in
metal fabrication and welding.
Our staff of excellent, certified
technicians will complete just
about any task you give them.
Hours of Operation
Monday-Friday 7:00 - 8:00
Saturday: 7:00 -12:00
Emergency Service
Always Available

Tire Repair
Herrmann's Service Center
does an array of tire repair
work. New or used tires,
mounting and dismounting,
tire rotation, plug or patch
work; we will assist you with
your needs.
Copyright © 2009 - 2018 HerrmannsServiceCenterInc.com, Inc. All rights reserved.